Порно фильм:
Transfixed: Being Trans 24/7
Порно фильм 2023 годаСтрана:
USA
Порно фильм в жанре:
Anal, Erotic Vignette, Ethnic, Trans
Порно студия:
Adult Time
Порно актрисы:
Vanniall, Angelina Please, Kaiia Eve, Jenna Creed, Jamie Kelly
Trans beauty Vanniall gets interviewed and has intimate sex with Ashley Lake. Blonde Kaiia Eve shares her experience as a Trans woman then pleases Angelina Please. Learn about Jamie French and her story of growing as a Trans person then watch her fuck Jenna Creed.
Продолжительность:
01:59:27
Язык:
Английский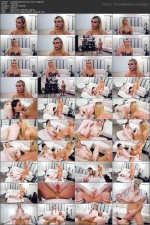 Файл
Тип HD видео:
720p
Качество:
WEB-DL
Формат:
MP4
Видео:
MPEG4 Video (H264) 1280x720 30fps 3000kbps
Аудио:
AAC 44100Hz stereo 127kbps
Размер:
2.69 GB