Порно фильм:
Elle Prefere Les Vieux / Она предпочитает постарше
Порно фильм 1990 годаСтрана:
France
Порно фильм в жанре:
Classic / Retro, Anal, DP, Hardcore, Feature, Gonzo, Lesbian
Режиссер:
Michel Ricaud
Порно студия:
Marc Dorcel
Порно актрисы:
Alain L'Yle, Rocco Siffredi, Charles Franzi, Charlotte Stephie, Christophe Clark, Frank Balard, Isabelle Neyle, Jonathan Lester, Philippe Soine, Roberto Malone, Sandrine Van Herpe, Tracey Adams
A modest and hard-working lives with his mother, Valerie, gorgeous ash blonde with gorgeous shapes, which more than anything to love and socialize with many different and rich gentlemen, that is, is, in fact, an elite prostitute at home. Very often, Valerie spying on his mother and watched as she passionately given to their superiors. She feels unsatisfied with friends her age, and dreams of what - something else ... Gradually Valerie into the world of depraved passions, and has been for a couple of deals with his mother loved, and most importantly, very profitable business with a rich and who can appreciate the freshness of the girl's men. Eventually, Valerie's father unexpectedly falls in love with her boyfriend ... What she chooses - follow your heart and repeat the fate of his mother, or stay with a loving man?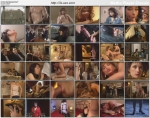 Продолжительность:
01:27:07
Язык:
Английский
Качество видео:
DVDRip
Формат видео:
AVI
Видео кодек:
XviD
Аудио кодек:
AC3
Видео:
704x528 (1.33:1), 29.970 fps, XviD MPEG-4 ~1890 kbps avg, 0.17 bit/pixel
Аудио:
48 kHz, AC3 Dolby Digital, 2/0 (L,R) ch, ~192.00 kbps avg
Размер:
1.31 Gb