Скачать порно фильм студии Marc Dorcel
Prison, sous haute tension / Prison - high pressure / Тюрьма, под высоким напряжением (2019). ДОБРО ПОЖАЛОВАТЬ В ОЧЕНЬ СПЕЦИАЛЬНУЮ ТЮРМУ. Оставаться в тюрьме обычно не очень приятно. Однако главные герои этого совершенно нового производства Dorcel охотно прошли через двери этой совершенно особенной тюрьмы. С Лизой Дель Сьеррой, главной медсестрой, и с Ребеккой Вольпетти в качестве тюремного надзирателя, есть много людей, которые с радостью придут и будут заперты за решеткой. В этом четвертом выпуске сексуального тюремного сериала «Дорсель» режиссер Франк Виконт хотел показать вам, что пребывание в тюрьме также может быть весьма приятным.
WELCOME TO A VERY SPECIAL PRISON.
Staying in a prison usually isn't a very nice experience to live. However, the protagonists of this brand new Dorcel production willingly went through the doors of this very special prison. With Liza Del Sierra a chief nurse and Rebecca Volpetti as a prison guard, there are a lot of people who would happily come and get locked up behind those bars. In this fourth instalment of the Dorcel prison series, director Franck Vicomte wanted to show you that a stay in prison can also be quite enjoyable. He also proves that you can shoot a hardcore movie in a closed space that isn't usually fit for sexual encounters and still make it very exciting. When they walked through the doors, the inmates, male and female, knew that they were about to live an adventure they'd never forget but maybe they didn't think it would be so exciting.
A SEXY NURSE AND NOT SO STRICT FEMALE WARDENS
Every day, Liza del Sierra, the chief nurse, visits every cell to make sure all the inmates are ok. During her first visit of the day, she checks on two very healthy prisoners who have not been affected by their life behind bars. After a standard auscultation, the two studs decide to show her that they still have what it takes to fully satisfy her. As a true professional, Liza lets them have fun with all her holes for everybody's pleasure.
Rebecca Volpetti is a young new guard who still has to prove to her colleagues that she can work in such a harsh environment and gain their respect. During her morning round, she catches Yanick, an experienced colleague, watching Lovita Fate, a new inmate, masturbating in her cell. Although she may seem nice and sweet in her strict uniform, Rebecca is as horny as her male colleagues. Very turned on after giving a "helping hand" to Lovita, she decides to earn a few more points with Yanick by giving him her wet holes in the corridor.
Lovita, who just witnessed this hot encounter, takes upon herself to make her stay in this prison much more pleasant. In order to do so, she knows she has to use all her assets with the guards. Yanick being on duty today, he is the lucky one who will have the privilege to take advantage of the young woman's perfect body. In these cold cells, you have to find ways to warm up from time to time.
IN THIS PRISON, EVERYTHING IS ALLOWED
Tonight, Liza is once more on duty. During her night round, she finds out that some of the inmates have found a way to get out of their cells. In order to calm them down before the guards arrive, she suggests them a very special game. After sucking dry the first three ones, she lets the last one, one of the oldest prisoners in the facility, fuck her ass through the bars. Eventually, the four men will go back in their cells before the guards could handle the situation in a more expeditious way.
Although mobile phones are strictly forbidden behind the high prison walls, one of the inmates still managed to get one. He mainly uses it to watch the hot pictures his girlfriend sends him from time to time. When Rebecca and her colleague Amirah Adara find out that he has a phone, they decide to use it their way by filming their sexual encounter with the lucky man. With these two slutty guards, he may even forget his girlfriend faster than expected.
Порно фильм:
Тюрьма, под высоким напряжением
Оригинальное название:
Prison - high pressure / Prison, sous haute tension
Год выхода:
2019
Страна:
France
Порно фильм в жанре:
Feature, Anal, Blowbang, France, Pantyhose, Stockings, Prison
Режиссер:
Franck Vicomte
Порно студия:
Marc Dorcel
Порно актрисы:
Liza Del Sierra, Amirah Adara, Rebecca Volpetti, Lovita Fate, Angel Blade, Zaha, Jennifer Jane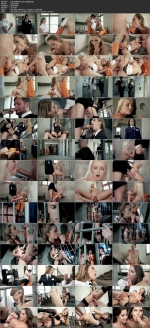 Продолжительность:
01:56:03
Язык:
Английский
Тип HD видео:
1080p
Качество видео:
WEB-DL
Формат видео:
MP4
Видео:
AVC, 1920x1080, 3000 kb/s, 30 FPS
Аудио:
AAC, 128 kb/s, 44.1 kHz
Размер:
2.51 Gb