Порно фильм:
Attractions / Влечение
Порно фильм 2023 годаСтрана:
France
Порно фильм в жанре:
Ebony, Clothing, Erotic Vignette, Ethnic, Feature, Group Sex, Interracial, Threesomes
Режиссер:
Alis Locanta
Порно студия:
Marc Dorcel
Порно актрисы:
Zaawaadi, Bella Tina, Jayla De Angelis, Linda LeClair, Tommy Cabrio, Ricky Rascal, John Stwo, Alis Locanta
AN INVESTIGATION INTO THE HEART OF DESIRE AND PASSION
Bella Tina and John are both partners in love and in business. As content creators, they often come across celebrities from different backgrounds. For their new interview, they had the opportunity to meet a famous architect whose speeches were as exciting as his globally recognized work. After a long day, John suggests to Bella that they go to their favorite restaurant to relax, but she is too tired to go out.
When they finally get home, Bella discovers that her partner had planned a surprise for Valentine's Day. The pretty brunette was so focused on her work that she had completely forgotten this important day for the two lovers. This was all it took for Bella to thank him in her own way. Since they have known each other for so long, the two lovers perfectly know what will make the other reach the seventh heaven.
TWO DIFFERENT WOMEN, THE SAME FANTASY
The next day, it is Zaawaadi, an Olympic champion who agrees to answer their questions. Very passionate about the subject, she even took a break from her daily training to answer the couple's questions. Very open about all subjects, she is not surprised when Bella Tina's questions shift from her career to more intimate topics. To the couple's great surprise, Jayla and Zaawaadi both fantasize about the same actor, Ricky Rascal. He really seems to turn the head of all women and the opportunity is too good to pass up. And if they "happen" to meet him, for a threesome, as part of this documentary?
A MORE EXCITING INVESTIGATION THAN EXPECTED
Despite the excellent interview conducted with Zaawaadi a few days earlier, Bella seems convinced that the athlete still has more to tell. The connection was very good the first time, so the athlete agreed to receive the couple at her home to finish this very special interview. To not take up too much of her time, Bella only has one question to ask her, but in the context of the report, it is certainly the most important of all: does she like anal sex? She does not let herself be intimidated and admits that it is one of her hidden pleasures, but she would not accept doing it with just anyone. Only someone important to her eyes could make her take the leap. What if this person was closer to her than she thinks?
After a week of grueling work, Bella and John can finally spend some time together, but despite that, their documentary occupies a large part of their lives. Bella cannot get out of her mind that if Jayla de Angelis and Zaawaadi fantasize about the same man, there must be a reason. And if the best way to know why was to end their series of interviews with Ricky Rascal?
After several unsuccessful attempts, he finally agreed to meet them at his home, in his sumptuous villa lost in the middle of the mountains. From the beginning of their discussion, Bella begins to understand how Ricky can be the object of fantasy for so many women. Once the interview is over, Bella cannot hold back her desire and gives herself to the two men. Could the couple have imagined a better ending for what will certainly be the most important documentary of their career?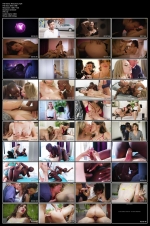 Продолжительность:
02:32:20
Язык:
Английский
Тип HD видео:
720p
Качество видео:
VOD
Формат видео:
MP4
Видео:
H.264, 1280x720, 30 fps, 3 Mbit/s
Аудио:
AAC, 44.1 KHz, Stereo (L R), 128 kbit/s
Размер:
3.33 Gb